The IberSPEECH 2022 Conference ended on November 16. Here is the latest news and some additional information.
IberSPEECH 2022 Awards
There were two awards at IberSPEECH 2022, Best PhD Thesis award and Best Paper Award. In this edtion of the Conference the winners are:

Best PhD Thesis award: Victoria Mingote (University of Zaragoza) for her PhD Thesis:
Representation and Metric Learning Advances for Deep Neural Network Face and Speaker Biometric Systems
Supervisor: Antonio Miguel
Best paper award: Wanying Ge, Hemlata Tak, Massimiliano Todisco, Nicholas Evans (EURECOM, France) for their paper:
On The Potential of Jointly-Optimised Solutions to Spoofing Attack Detection and Automatic Speaker Verification
Also, during the Conference the Spanish Thematic Network on Speech Technology (RTTH) awarded the Professional Career Prize in Speech Technologies. In this edition the honorary prize was for
Congratulations to the award winners.
Phote Gallery
We will update the photo gallery as we have more photos.
Photo gallery of IbeSPEECH 2022 (Google Photos)
If you have photos of the Conference and would like to share them, please send them to iberspeech2022@gmail.com.
Next IberSPEECH
The next edition of IberSPEECH will take place in Aveiro (Portugal) in 2024.
For more information, please, contact António Joquim S. Teixeira, Institute of Electronics and Informatics Engineering of Aveiro, University of Aveiro (Portugal).
Here you have a Video on Aveiro.
Keynote speaker presentations
Special issue of the Journal of Applied Sciences with papers from IberSPEECH 2022
We invite all authors who have presented a paper at IberSPEECH 2022 to submit an extended version of their paper to the the Special Issue of Applied Sciences journal (MDPI) entitled «IberSPEECH 2022: Speech and Language Technologies for Iberian Languages».
This special issue is now open for submission. Please note that the deadline for submission of the extended paper is May 31, 2023.  The deadline has been extended to June 23, 2023.
More information about this special Issue: https://www.mdpi.com/si/130026/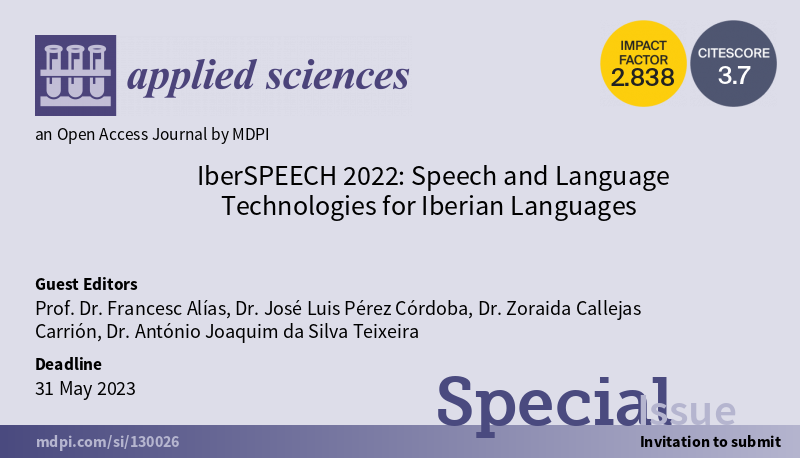 ---