Oral Presentation
Oral presenters will have 15 minutes for presentation, followed by 5 minutes for questions and discussion. Presentations can be submitted on a USB stick at the Technician Rooms before the session. Alternatively, authors can send the presentation before the session to the following email address: presentations.ibsp22@gmail.com.
The format of the presentation have to be in PDF format. It is not possible to use your own computer.  Details will follow. Please contact us if you have any particular requirement.
Poster Presentation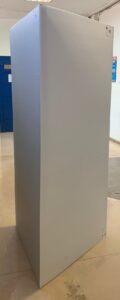 The poster boards are of width 95 cm and height 190 cm, fitting A0 posters with vertical orientation.
Authors of those posters programmed on Monday and Tuesday morning are invited to leave the poster all morning long. Posters of the Albayzin evaluation can be hung throughout Tuesday afternoon.
Thesis Award
The authors will present a poster in the Special Paper session. In case you cannot attend the conference, please, contact Iberspeech organizers.
---